Who We Are
A Letter From The Director
Imagine a Hebrew School where kids don't want to miss a day. They come in with a smile and leave humming a Jewish song. Picture a group of Jewish children engaged in lively discussion, singing, laughter and prayer.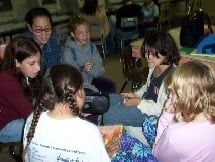 Welcome to Chabad Hebrew School. Our school enjoys a well-earned reputation as a trendsetter in creative Jewish education for children ages four to thirteen. Our staff is carefully selected for their broad knowledge of Judaism,
dedication and experience in teaching children. Our student body is made up of children from various backgrounds and affiliations.
We hope that by years end, along with the Aleph-Bet, the holiday learning, and Hebrew literacy, your child will have developed a deep love and respect for our precious heritage.
We encourage you, as a parent to get involved, ask questions and keep in touch with our school. If there is anything you would ever like to discuss with me, feel free to call me at 563-355-1065.
Looking forward to a fun and productive year,

Chana Cadaner